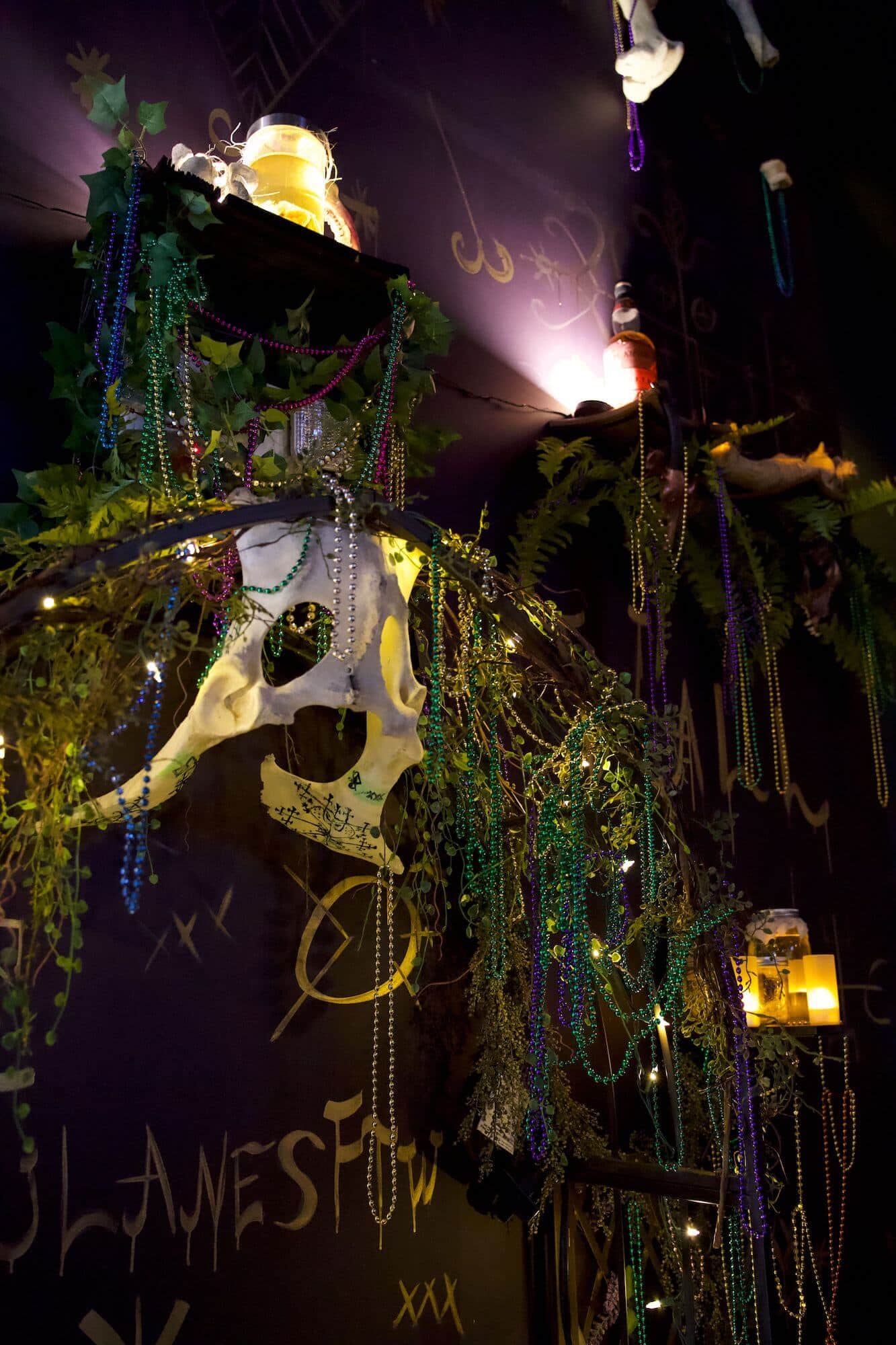 Tulane's
A New Orleans-Inspired Dive That's Dedicated to Both Craft and Being the Life of the Party.
If you've seen New Orleans cocktails, Mardi Gras celebrations in Fort Worth, and enormous slices of pizza on social media over the last year, chances are it's been courtesy of Tulane's. This New Orleans-style cocktail bar has quickly become a favorite spot in The Foundry for people across North Texas with a hankering for the Big Easy.

Side-stepping the stereotype of the pretentious cocktail bar, Tulane's isn't afraid to have some fun! You'll regularly see food trucks, party beads, and brightly-colored drinks served alongside elevated staples of New Orleans mixology.

We recently sat down with Amanda Jones, co-owner alongside Daniel Zapata and self-titled Pizza Slinger, to get the backstory on Tulane's and what led them to create such a unique concept in Fort Worth.
The culture (of The Foundry District) is just perfect for us. It's a group of young entrepreneurs who are all trying to bring something to Fort Worth that doesn't exist elsewhere. That's true of the district itself and of each individual business within.
– Amanda Jones, Tulane's
Conversation
How did Tulane's transition from an idea to a business?
My partner, Daniel, and I had been talking about wanting to start Tulane's since around 2016 and we knew right away that the location would be one of the most important decisions for us to make. We started looking at properties quickly, but it wasn't until May of 2019 that we pulled the trigger on our spot in The Foundry District. 
It's hard to say exactly how it went from an idea to a business because we started pursuing it almost as soon as we had the idea!
What inspired you to bring New Orleans to Fort Worth?
Daniel in particular fell in love with the cocktail culture of New Orleans after visiting for Tales of the Cocktail, which is this international cocktail expo. Looking around the Fort Worth bar scene, we saw an opportunity to bring that culture here! While there are great cocktail bars with some New Orleans classics on their menu, there wasn't one place dedicated to New Orleans cocktails, events, food, etc. 
Is there any one particular dive in The Big Easy that was the inspiration for Tulane's?
More than any one place, we focused on capturing the culture of the French Quarter and distilling it down for the audience here. If I had to focus on one destination in New Orleans, though, it would have to be the Voodoo Gardens. It's this amazing alleyway with authentic voodoo art, string lights, a beautiful entrance gate, and it's like this hidden gem. You sort of have to know it's there, then it just opens up for you and you feel immersed.
Your bar balances batched party-style drinks you'd find on Bourbon Street with barrel-aged classics of NO mixology like the Vieux Carre and the Sazerac. Most other bars seem to choose one over the other – what inspired you to have such a balanced bar approach?
We really just think that people want a little bit of both! But, we've also slightly adjusted the traditional approach to both craft cocktails and party drinks. For the cocktails, we batch some of the classics so that we can knock out dozens at a time without sacrificing quality. People want incredible drinks, but they don't always want to wait 10 minutes for it to be made. On the party drink side of things, we've elevated the quality beyond what people traditionally expect. We really think it's the best of both worlds!
While Tulane's is decidedly a cocktail bar, the huge pizza slices have gotten a lot of love on social media – what led you to take such a unique approach to bar food?
Who doesn't love pizza, especially when they're drinking?! Really though, we knew we wanted to offer a quick, cheap food option for folks. Then, we thought about ways we could do it in an unexpected way. We wanted people to want to take photos of the pizza, to make it a moment that could be captured.
We've been thrilled by the response on social media to the pizza! We were hopeful it would catch on, but we didn't think it'd blow up this fast.
Beyond proximity, what do you think is at the heart of North Texans' love affair with New Orleans?
I think it's a few different things. Everything in DFW is so new, which is great, but it can also feel removed from history. In New Orleans, especially in the French Quarter, you FEEL the history around you. And you still feel the influences of France and of the Caribbean. It's a blend of cultures that you don't really find in North Texas.
Beyond history, it's also a city where you're encouraged to let your hair down, where people of all ages have permission to party a little bit! The energy in DFW can be really focused on productivity, on business, on growth. Things are just a little more laid back, a little more fun, and just different in New Orleans. So all of that, with the proximity, really sells it to North Texans.
What made The Foundry District the right home for Tulane's?
The culture is just perfect for us. It's a group of young entrepreneurs who are all trying to bring something to Fort Worth that doesn't exist elsewhere. That's true of the district itself and of each individual business within. We also get to be near the West 7th crowd without being in it. Our audience skews a little older than that crowd, but they still want to have a great time! So this location is perfect for catering to them.
How did Tulane's adapt in response to COVID-19 realities?
We opened just a month or so before the full lockdown, so COVID-19 realities are really all we've known! For us, it's meant sanitization, avoiding shareable drinks, and enforced social distancing, like most other places. We've also expanded and placed a great emphasis on our food menu and offered curbside service for food orders, which makes us even more thankful for making such a bold choice with our pizza by the slice!
To learn more about Tulane's, be sure to follow them on social media at @TulanesFortWorth!
There is always an amazing event around the corner. To take the shortest possible trip to the French Quarter, swing down to their bar at 2708 Weisenberger St in between the Grand Berry Theater and Trinity Coffee House.