Adaptive Reuse- Fort Worth, Texas
Proof
901
W. Vickery Boulevard
Fort Worth, Texas
ONE ADDRESS. MANY LIVES.
Built in 1926, Proof's first life began when Adkins-Polk Whole Grocers built it to serve the growing population of Fort Worth. As the city transformed through the years, so did the purpose of the building. In 2010, the building was sold to Firestone & Robertson Distilling, signaling the true second life to the space. Within its walls, the famed TX Whiskey was imbibed by the masses, and Proof was further endeared to Fort Worth.
Cue to today, Proof evolves into its current incarnation. The rehabilitation of the building transforms it into an entertainment venue, food & drink destination, and sought-after office space. But, all of this done without sacrificing the near-century of history its seen. The transformation of Proof is about celebrating history while embarking on a new era of Fort Worth. This landmark will now welcome the masses of Fort Worth's Near Southside.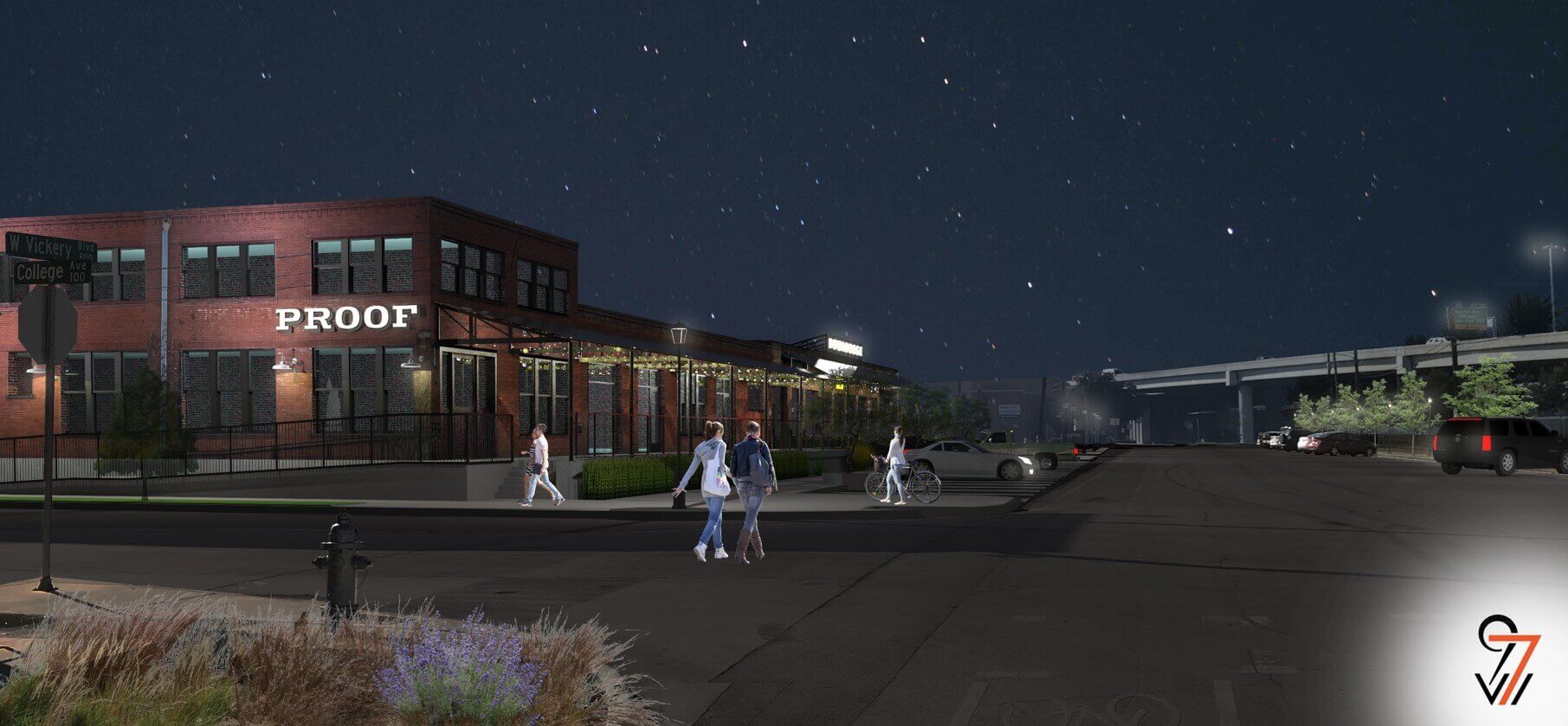 A PROHIBITION ON THE ORDINARY.
This historic renovation is about reviving the century-old story of this building while also priming it for the future. The gravitas of the Chicago Brick-adorned architecture will be balanced by repurposed decor, installation art, and patterned elements that create a sense of home. Lofty ceilings and ample natural light provide a clear view of the historic structures lining the block, readily transporting visitors into an era of speakeasies, haberdasheries, and train travel. The large loading docks will be transformed into generous patio space, with large glass doors welcoming visitors to iconic eateries and innovative office space. Within the walls of the space, every turn reveals exposed brick, wood mezzanines, and historic fire doors, which act as jewelry inside each room.