Adaptive Reuse- Fort Worth, Texas
Proof
901
W. Vickery Boulevard
Fort Worth, Texas
ONE ADDRESS. MANY LIVES.
Built in 1926, Proof's first life began when Adkins-Polk Whole Grocers built it to serve the growing population of Fort Worth. As the city transformed through the years, so did the purpose of the building. In 2010, the building was sold to Firestone & Robertson Distilling, signaling the true second life to the space. Within its walls, the famed TX Whiskey was imbibed by the masses, and Proof was further endeared to Fort Worth.
Cue to today, Proof evolves into its current incarnation. The rehabilitation of the building transforms it into an entertainment venue, food & drink destination, and sought-after office space. But, all of this done without sacrificing the near-century of history its seen. The transformation of Proof is about celebrating history while embarking on a new era of Fort Worth. This landmark will now welcome the masses of Fort Worth's Near Southside.
A PROHIBITION ON THE ORDINARY.
This historic renovation is about reviving the century-old story of this building while also priming it for the future. The gravitas of the Chicago Brick-adorned architecture will be balanced by repurposed decor, installation art, and patterned elements that create a sense of home. Lofty ceilings and ample natural light provide a clear view of the historic structures lining the block, readily transporting visitors into an era of speakeasies, haberdasheries, and train travel. The large loading docks will be transformed into generous patio space, with large glass doors welcoming visitors to iconic eateries and innovative office space. Within the walls of the space, every turn reveals exposed brick, wood mezzanines, and historic fire doors, which act as jewelry inside each room.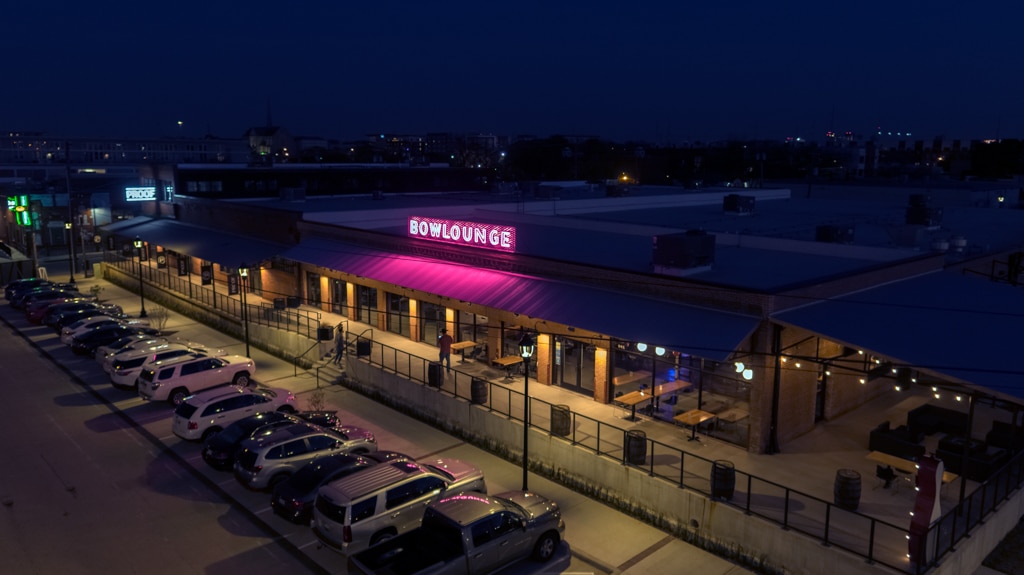 SIGNED TASTEMAKERS
BOWLOUNGE

Bowlounge, currently with one location in the Dallas Design District, is a boutique bowling alley concept equipped with vintage Brunswick pinsetters that bring back the true entertainment of bowling, offering "adulting made fun" experiences including a bar with craft beers and cocktails, a scratch kitchen, and loads of games. Using vintage aesthetics to craft an innovative entertainment concept, Bowlounge is an ideal fit for PROOF.
Visit Website
WITHERITE LAW GROUP, PLLC
Originally formed in 2001 as a medical malpractice law firm with less than ten employees, Witherite Law Group has evolved into one of the largest female-owned personal injury law firms in the country. Witherite Law Group strives to improve the lives of each person they serve and vision is ideologically aligned with the preservation and revitalization of the Vickery Boulevard industrial area.
TRINITY REIS

Headquartered in Fort Worth, Texas, Trinity Real Estate Investment Services is a commercial real estate brokerage firm, specializing in the investment sales of single-tenant, net lease properties nationwide. Trinity is committed to providing first class service and guidance to our clients. Founded on the principle that the relationship we have with our clients is a long-term investment, Trinity is committed to using every available resource to meet the goals of our clients.
Visit Website
GSBS ARCHITECTS
The best architecture is born out of a clear understanding of the people for whom it is built – their origins, values, purpose, location, and aspirations. The goal of great architecture should be to transform our surroundings while being good stewards of the environment. A sense of place and a sense of purpose is basic to the outcome.
A unique perspective comes from 39 years of integrating disciplines under one umbrella. It gives us insight and translates to vibrant sustainable design. We bring together urban planners, landscape architects, interior designers, graphic artists, sustainability specialists and economic analysts on every architectural team for an integrated approach to design.
Long before it was fashionable and long before LEED®, GSBS was incorporating sustainable design components like daylighting, high-performance building systems and energy efficiency—resulting in efficient designs with minimal maintenance. We think that's wise stewardship of our client's resources and the natural resources we share with the rest of the planet.
We aspire to Sustainable Design Excellence—to go above and beyond what is expected. These three words describe our approach to every single project we undertake. We push the limit, continually striving to incorporate innovation in design and make each project:
+ MORE VALUABLE: Lower maintenance and operation cost
+ MORE LIVABLE: Healthier environment
+ MORE RESPONSIBLE: Efficient, environmentally-friendly spaces
+ MORE AESTHETIC: Award-winning design that evokes emotion
Eye-catching design is key, but we measure success by the performance of our projects and by our clients' satisfaction.
GENERAL PUBLIC BRANDING
General Public Branding create identities that intoxicate and messages that endure.
A compelling brand defines the difference between you and everyone else you compete with for attention. Positioned properly and built authentically, your brand should move your audience to action and move the sales needle.
We are a branding company that uncovers what sets you apart and gives language to that truth. We aren't artists; we are problem-solvers illuminating more impactful ways to stand out and unseat the competition.
Visit Website